Eagle Spa Plus Lodges

The Eagle Spa Plus lodges are suitable for large family holidays or gatherings. Comfortably accommodating 10 guests these lodges offer a premium environment for enjoyment and relaxation.
These lodges boast a large open plan first floor lounge and kitchen-dining area with a central staircase leading to 4 en-suite bedrooms. There is a master en-suite on the first floor and two balconies either side of the building as well as a luxurious ground-floor out door hot-tub.
Features
Perfect for 10
Central heating
1 upper floor double (en-suite)*
1 lower floor double (en-suite)*
3 lower level twin (en-suite)*
Private outdoor ground-floor hot-tub
Luxurious indoor sauna
TV and DVD
Fully equipped kitchen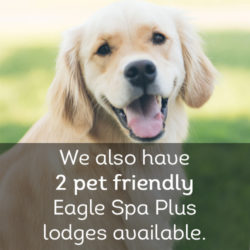 * Units 7, 9 & 48 only (Unit 5 has 3 double and 2 twin)
PLEASE NOTE: Our stays range from Mon-Fri (4 nights), Fri-Mon (3 Nights) or 7 nights starting from either a Monday or a Friday.
We also offer seasonal 2 night breaks (Mon-Wed & Wed-Fri) . Please contact us for more information regarding these.