Kinder Lodge

See the world through your child's eyes whether you're an adult or a youngling!
Our exclusive Kinder Concept Lodge is new for 2020 and is fully equipped to create the perfect child friendly environment during your stay at Piperdam whilst providing that extra magic touch unique to your wee ones!
With all modern appliances as standard at this 5 bedroom lodge, including high chair, stair gate, toys and children's bed linen, you will have everything at your disposal to ensure the best experience possible for the whole family.
The kids will just love sleeping in their very own tepee cabin bed, having the most fun on our exclusive Piperdam game/dining table and bathing in the child friendly bathroom.
We really have thought of everything! And if that's not enough, the building's ginger bread appearance alone will make you feel part of nature than ever before!
With the kids enjoying the time of their lives, the adults can rest in the knowledge that this is the perfect carefree holiday that only Piperdam can provide!
Please note that this lodge, while it has 5 bedrooms, will only accommodate 6 adults and 4 children.
Features
Perfect for 6 adults and 4 kids
Central heating
2 upper floor double bedrooms
2 upper floor children's twin bedrooms (1 attached to double)
1 lower floor twin bedroom
Lower level twin-shower room
Upper level bath and shower room
Private outdoor ground-floor hot-tub
TV and DVD
Fully equipped kitchen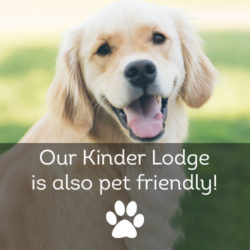 PLEASE NOTE: Our stays range from Mon-Fri (4 nights), Fri-Mon (3 Nights) or 7 nights starting from either a Monday or a Friday.
We also offer seasonal 2 night breaks (Mon-Wed & Wed-Fri) . Please contact us for more information regarding these.